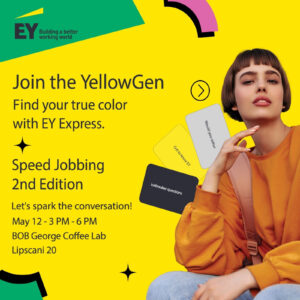 EY Romania is organizing the 2nd edition of their Speed Jobbing event. Find more information below:

What if getting hired was fun and started with a card game?
Don't miss out on the opportunity to experience this super fresh take on interacting with a company.

Join them at BOB George Coffee Lab to play, enjoy great coffee, and have meaningful conversations.
Special guest: @zaiafet

When: May 12

Where: BOB George Coffee Bar.

Limited places available – register now:
https://forms.office.com/e/q8sZz92UtC
Registration cut-off: May 11, 5 PM

An event dedicated to 2nd and 3rd-year students.
Find your true color with EY Express!